New Survival Energy Product Makes Every Window A Powerful Solar Collector
Maximum Power With Minimum Solar Footprint
From:
Jared Brewer
Thomson, Illinois

Dear Friend,
Here at Powerful Living we scour the globe to find the latest and greatest survival and self-reliance products on the market... and the Solar Simple 123 is no exception.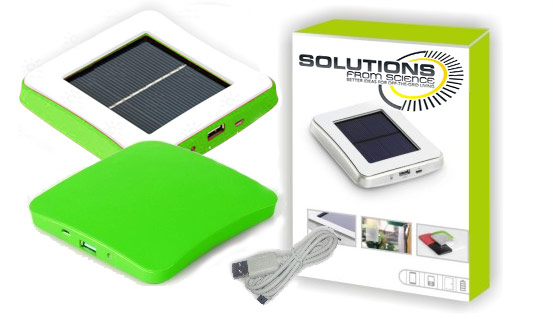 It's not just a run-of-the-mill solar charger. It's the simplest to use solar charger on the market. You can stick it to any window... anywhere... and you'll be charging any USB-powered device with only the power of the sun in a matter of minutes. Charge cell phones, tablets, mp3 players and GPSs.

The 1800 mAH lithium polymer battery is the latest breakthrough in rechargeable battery technology, and has even been responsible for some recent land speed records! It can be recharged hundreds of times and because this is a "no memory" battery, you can use it when you need to and forget about it when you don't.

Want to charge it at night when the sun isn't shining? No problem. You can also charge it with the included USB cable. You'll have plenty of portable backup power that you can throw in your pocket or your purse and you'll never be without power again.
We only have a handful of these in stock right now and we're practically giving them away. As high as $70 online, for a limited time you can get your very own Solar Simple 123 for just $19.95 plus shipping and handling. And a...
MONEY-BACK GUARANTEE
You don't risk a penny today.

Because if you aren't absolutely thrilled with this at any time during the next year, for any reason -- or no reason -- simply send it back and we'll send you a FULL REFUND of your purchase.

No questions asked. No hassles. For one full year -- 365 days.

Does that sound fair? If so...
IT'S EASY TO ORDER:
For Fastest Service: Click the "Add To Cart" button at the bottom of this page, and it will take you to our 24-hour secure online order form.
For Fast Service: Have your credit card ready and call our Priority Order Hotline and tell one of our friendly staff members you want to order the Solar Simple 123. She'll take care of the rest. The number to call is...
815-259-4552
(Priority Order Hotline)
To Order By Check Or Money Order:
Powerful Living, Inc.
Attn: Solar Simple 123
2200 Illinois Rt. 84
P.O. Box 518
Thomson, IL 61285
Checks and Money Orders should be made payable to: Powerful Living.
Order now!
Sincerely,


Jared Brewer
General Manager, Powerful Living
Buy Yours Today!
›› CLICK ADD TO CART TO ORDER YOUR SIMPLE SOLAR 123 TODAY ‹‹
Good Deal: Get one unit at $70 $19.95
+ 6.95 Shipping & Handling
OUT OF STOCK
Good Deal: Get three units at $210 $59.85
($19.95 each) + Free Shipping & Handling
(a savings of $20.85!)
OUT OF STOCK
Good Deal: Get six units at $420 $95.70
($15.95 each) + Free Shipping & Handling
(a savings of $65.70!)
OUT OF STOCK
Order Online By Safe Secure Server

Home Of The Original Point, Plug, And Power Up Solar Backup System